Atavism Toolbox PRO
Atavism Server management software.
Manage your server and world with ease.
What is Atavism Toolbox PRO?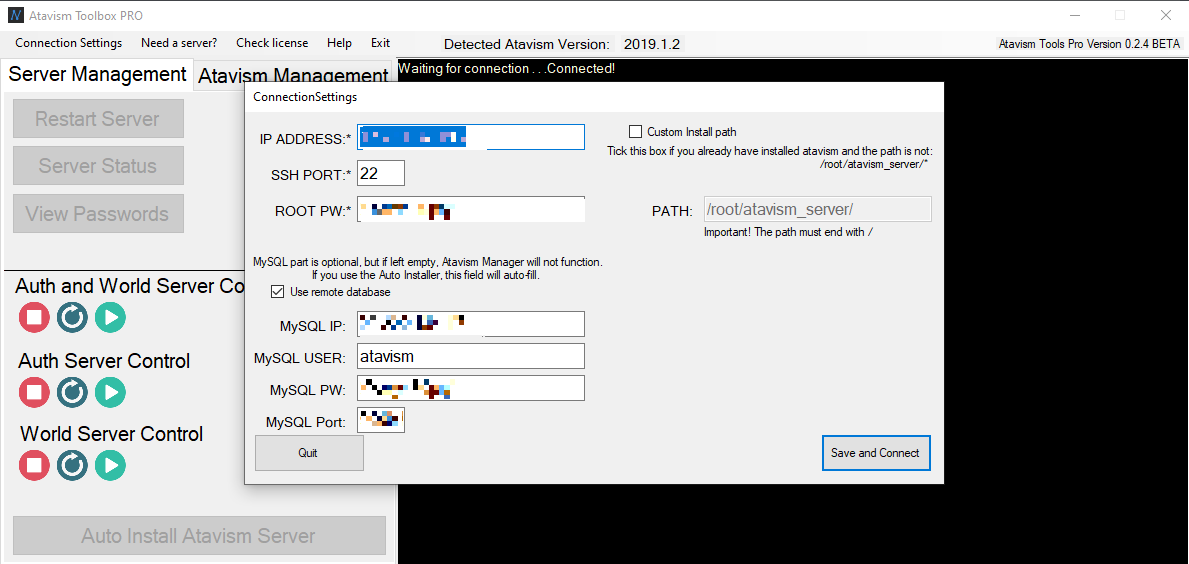 Restart Server
Restart World Server
Restart Auth Server
Atavism Server Auto Installer
Advanced Game Editor
Schedule Events
Check Server Status
Check Server Stats
See Atavism Stats
Item Editor
Ability Editor
Effect Editor
Account Management
Ingame Message
Issue several maintenance commands
Player management
Atavism Toolbox is a small neat program to easily manage your Atavism Game/Server.
With this tool you can do on the fly editing while the game is in public testing, no need to open Unity to tweak items, abilities and so on.
This tool also brings Player & Account Management to the table. This allows you to ban accounts on the fly. Or make an account a Game Master.
With the Game Editor, you can edit many of the core settings of the server. Quad tree, logging, enable/disable new account registrations and much more!
Event Scheduler will allow you to schedule events like double EXP weekend.
And as if that wasn't enough, this tool also have a Auto Installer for the Atavism Server. Yes! We are bringing a One-Click install for Atavism Server on Linux based servers.
This one-click installer will install and setup absolutely everything you need to run Atavism. It will install java, MySQL, Secure MySQL, config auth&world.properties. It is basically one-click and login and play.
And a lot more.
Why North Networking?
Deploy your service infrastructure on our fully redundant, high performance cloud platform and benefit from its high reliability, security and enterprise feature set.
High Performance
We operate one of the most advanced Gbit networks in the world, with all of our peers we got whopping 5.27Tbit upstream and extensive DDoS protection.
Stay online with our 99.99% SLA
Our cloud platform offers a 99.99% SLA uptime guarantee with full hardware and network redundancy to keep your services online.
Anti-DDoS Protection
All of our servers are protected by a DDoS shield.
Our DDoS shield is constantly filtering away bad traffic and only letting through good and healthy traffic.
Frequently Asked Questions
Some of the most frequent questions we receive
Our data centers